Teachers at the Frontiers of Research
Math for America
When science teacher Vielca Anglin applied for the Math for America (MƒA) Master Teacher Fellowship in 2013 — the first year it was open to science teachers — she couldn't have expected that the program would send her three years later to the Amazon Conservatory of Tropical Studies in northeastern Peru. But thanks to an MƒA grant, she spent 10 days immersed in environmental science research in the rainforest, measuring wind speed with anemometers to determine microclimates, learning about biomimicry and searching for pink dolphins with researchers.
"It was a really transformational experience for me," Anglin says. "Even before I arrived, I was getting excited about bringing that experience back to my students. I knew I wouldn't be able to take the students to the Amazon, but my hope was that I could bring a lot of what I learned there back."
After returning from South America, Anglin searched for relevant curricula and found EcoRise, a program that provides funds and lesson plans to teachers who wish to integrate sustainability into their lessons. Anglin got anemometers for her high school students to measure indoor air quality. After first learning about biomimicry and then using the natural systems they observed to design solutions for human problems, her students put their research into action and won a grant to build a hydroponic garden for the school cafeteria.
Hoping to inspire other master teachers to push the frontiers of environmental knowledge in their own schools, Anglin shared her experiences with nearly 100 other New York City-based MƒA fellows through two all-day workshops and an evening workshop on grant writing at MƒA.
"Vielca's story is a specific instance of how, when you bring great teachers together who are interested in current science, they figure out how that's going to trickle down to the classroom," says Michael Driskill, chief operating officer at MƒA. "It can be a powerful, deep learning experience for the students, although this isn't necessarily the kind of learning that you're going to measure with a standardized test score."
Learning cutting-edge math and science for their own sake, as many researchers do, fuels MƒA master teachers. The fellowship program, which was founded in 2004 by Jim Simons, puts the spotlight on excellent, experienced teachers and supports them with stipends, ongoing professional development opportunities and grants.
"We found that investing in accomplished teachers — keeping them in the classroom longer and supporting them in their careers — makes the entire profession better; it's also the best way to attract outstanding people into teaching math and science," says John Ewing, president of MƒA.
New York City STEM teachers with at least four years of teaching experience who make it through MƒA's rigorous vetting process receive a yearly stipend for the renewable four-year fellowship, along with access to hundreds of teacher-led workshops and courses on cutting-edge content, pedagogy, educational equity and career development. The average MƒA master teacher attends 7 to 15 courses per year, most of which consist of several two-hour evening workshops led by two teachers.
The courses vary based on teachers' own interests. For example, Gary Rubinstein, a 29-year veteran teacher who joined MƒA's first master teacher cohort of six math teachers in 2006, spent a year and a half researching how to apply group theory to permutation puzzles. Afterward, he led a three-week MƒA mini-course on the topic, teaching 32 fellow master teachers what he had learned and including puzzle challenges and exercise ideas for their classrooms.
"I hope that the people go and teach this stuff to their students so I get the exponential effects: If I teach it to 30 people, and if even 10 of those people teach it to 30 students, suddenly 300 people are benefiting from this," says Rubinstein, who sees his course as the culmination of 29 years of teaching — and four decades of solving — Rubik's Cubes.
Rubinstein also recorded 10 30-minute lectures on the content, available on his YouTube channel, and created a free iPhone app of permutation puzzles.
"If I weren't a part of Math for America, I might have still learned this stuff for myself, but I don't know that I would have collected it in such a shareable way," says Rubinstein, who noted that he'd put in "extreme levels of effort" to create the six-hour mini-course.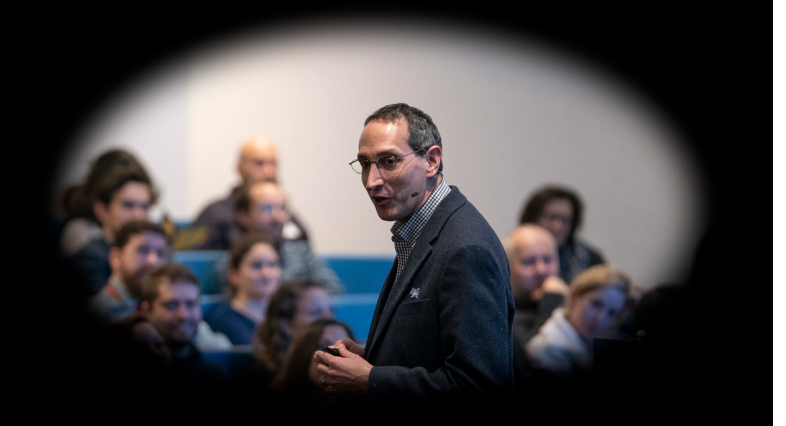 That effort pays off in the innovative ways master teachers such as Rubinstein and Anglin engage the next generation of scientists. Anglin recalls that when she taught middle school, her students were always excited about science, but "something along the way happens," and by the time the students at her transfer high school reach her, they've lost interest in STEM.
"For me, that's the motivating factor with teaching students in the demographic that I teach now," Anglin says. "I tell them all the time, 'You're scientists because you're using your five senses; human beings are naturally scientists.' I teach science because I want to get students connected to the fact that they can see themselves in STEM roles."
Mentoring the next generation of researchers undergirds one of the basic principles behind MƒA: that these dedicated master teachers are mathematicians and scientists in their own right.
"Most people don't think of teachers as people who are immersed in their own fields," Ewing says. "Our master teachers are passionate about their subject; they always want to learn more themselves; they are deeply engaged. That's what makes them great teachers."
Anglin agrees and teaches her students every day that they are scientists, as she leads them in collecting data for citizen science platforms, writing grants and asking questions about how to mitigate their community's climate impact.
"I don't have a Ph.D., but I truly believe that I'm a scientist as well," Anglin says. "As a human being, you're making sense of everything around you by asking questions and using your past experiences to predict outcomes. You say, 'That may be the answer, but I'm going to investigate to find out if that's the truth.' The fact that we're always asking questions is part of what makes us scientists."